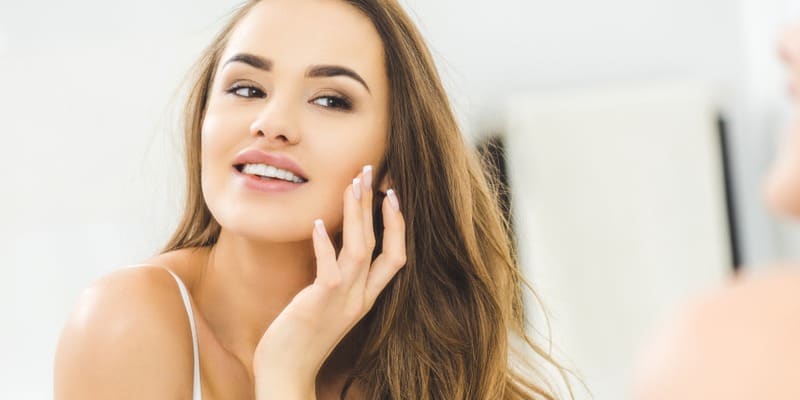 Squamous Cell Carcinoma
Squamous cell carcinoma of the face is the second most common facial skin cancer. It is related to sun exposure and also to tanning beds or lamps. The other risk factors include smoking, burns or scars, radiation exposure, chemicals like arsenic and immunosuppression.
The damage to DNA is cumulative and that is why it takes many years of sun exposure before you see a skin cancer developing. It can take as long as 30 years before the DNA damage has reached the point of irreversibility in certain skin cells leading to cancer formation. Squamous cell carcinoma can spread to other areas of the body and into lymph nodes.
The larger the size of the tumor the more likely the spread. The initial diagnosis is usually made on biopsy by a dermatologist or a family physician. The cancer might appear as a raised red mass, a flat red plaque, an ulcer or just an irritated scaly area.
The appearance is not as typical as seen with basal cell carcinoma. Therefore, when in doubt a biopsy is a good option. If there is a concern of spread then a CT scan of the body or a PET scan is warranted along with a consultation with an Oncologist.
For more information or to schedule an appointment, contact us toll-free at 877-JANJUA1.
Our location in Bedminister, NJ is within easy access from Morris and Somerset County, New Jersey.
DISCLAIMER: THIS WEBSITE IS NOT INTENDED TO GIVE A MEDICAL OPINION. TO OBTAIN A MEDICAL OPINION, YOU WILL NEED TO BE EVALUATED IN PERSON. FOR ANY QUESTIONS CALL OUR OFFICE AT 908-470-2600