FACE THE FUTURE...
beautifully
IMPROVE YOUR
BEAUTY PROFILE
OPEN YOUR EYES TO ALL
THE BEAUTIFUL
POSSIBILITIES
THERE'S A YOUNGER-LOOKING YOU
WAITING TO BE REVEALED
Facial Surgery Services – Facelift, Rhinoplasty, Blepharoplasty and more
Dr. Janjua is a board-certified facial plastic surgeon. He was trained in Otolaryngology-Head and Neck Surgery – at Yale University.
He is Board Certified by the American Board of Facial Plastic and Reconstructive Surgery as well as the American Board of Otolaryngology-Head and Neck Surgery.  Learn more about Dr. Janjua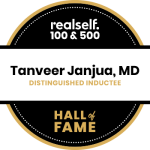 At Janjua Facial Surgery, we focus on facial cosmetic and plastic surgeries such as face lift, blepharoplasty and rhinoplasty surgeries.
Our aim is not just to perform procedures, but to educate our patients.  Our patient testimonials say it all.
Our location in Bedminister, NJ is within easy access from Morris, Hunterdon, Somerset County, New Jersey, and Philadelphia and New York.
For more information on face lift surgery or to schedule an appointment, contact us toll-free at 877-JANJUA1.
Patient Reviews
What Our Patients Say...
From The
FACIAL SURGERY BLOG
Join us in congratulating Dr. Janjua on receiving his first patent! Dr. J has been working hard on a device that stops severe nose bleeds…
Dr. Tanveer Janjua Earns Respected RealSelf 100 Award For Ongoing Commitment to Consumer Education High Patient Ratings RealSelf Names Bedminster Facial Plastic Surgeon Among Leading…
How did a YouTube video make this patient travel from Switzerland to Bedminster, New Jersey? He was searching on the internet for a Revision Direct…
Dr. Janjua's
Awards & Certificates