Top Surgeon for Facelift, Rhinoplasty, Blepharoplasty
Dr. Janjua, a board-certified facial surgeon trained at Yale, specializes in procedures such as face lift, blepharoplasty, and rhinoplasty surgeries at Janjua Facial Surgery in Bedminster, NJ.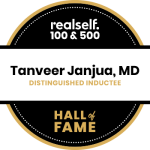 Our emphasis is on patient education. Conveniently located for residents of NJ, Philadelphia, and New York.
Contact us at 877-JANJUA1 for more.
From The
FACIAL SURGERY BLOG
A mid-life crisis is usually brought about by the realization that you have passed through at least the first half of your life. It can…
Cosmetic surgery as it relates to reconstructive aspect can be done at any age. Certain conditions that require reconstructive surgery such as otoplasty (pinning back…
If a patient develops redness with yellow drainage in the alarplasty incisions, this is what needs to be done immediately. Step 1. Need oral antibiotic…
Dr. Janjua's
Awards & Certificates
As Seen on TV
The Balancing Act on FOX News
Dr. Janjua was recently featured on The Balancing Act on FOX News to discuss his expertise in facial plastic surgery. During the interview with Montel Williams, Dr. Janjua talked about his extensive experience in the field, including his innovative techniques for nose surgeries.
He also discussed the importance of personalized care for each patient and the latest advancements in facial plastic surgery. One of which is his new invention, JStop Nosebleed. This unique device stops severe nosebleeds and will soon be available to the masses.