Top Surgeon for Facelift, Rhinoplasty, Blepharoplasty
Dr. Janjua is a board-certified facial plastic surgeon. He was trained in Otolaryngology-Head and Neck Surgery – at Yale University.
He is Board Certified by the American Board of Facial Plastic and Reconstructive Surgery as well as the American Board of Otolaryngology-Head and Neck Surgery.  Learn more about Dr. Janjua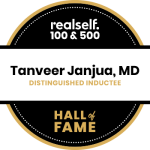 At Janjua Facial Surgery, we focus on facial cosmetic and plastic surgeries such as face lift, blepharoplasty and rhinoplasty surgeries.
Our aim is not just to perform procedures, but to educate our patients.  Our patient testimonials say it all.
Our location in Bedminister, NJ is within easy access from Morris, Hunterdon, Somerset County, New Jersey, and Philadelphia and New York.
For more information on face lift surgery or to schedule an appointment, contact us toll-free at 877-JANJUA1.
As Seen on TV
The Balancing Act on FOX News
Dr. Janjua was recently featured on The Balancing Act on FOX News to discuss his expertise in facial plastic surgery. During the interview with Montel Williams, Dr. Janjua talked about his extensive experience in the field, including his innovative techniques for nose surgeries.
He also discussed the importance of personalized care for each patient and the latest advancements in facial plastic surgery. One of which is his new invention, JStop Nosebleed. This unique device stops severe nosebleeds and will soon be available to the masses.
Patient Reviews
What Our Patients Say...
From The
FACIAL SURGERY BLOG
It occurred to me while answering a patient's question. It was a moment of truth, almost an epiphany………. Patients are afraid of 'FACELIFT'. Many of…
The heaviness of upper eyelids can be fixed in two different ways; Browlift vs. Blepharoplasty. ​Browlift is the surgical procedure that lifts up the eyebrows and…
The ethnic rhinoplasty (nose job) in African Americans is very different than Caucasians. Typically in African Americans, the nose is wide with large nostrils, and…
Dr. Janjua's
Awards & Certificates