Here's another story of a recent patient, who found Dr. Janjua on YouTube, and traveled to New Jersey for lip reduction surgery.
Rosemarie lives in Florida and had her lips injected with silicone many years ago. Initially her lips looked good, but with time they started appearing deformed.  She was quite distraught and seeking help.  She found a surgeon in Florida and underwent surgery to fix her lips, however, the lips never reduced to her liking.  In her desperation, she took to the Internet.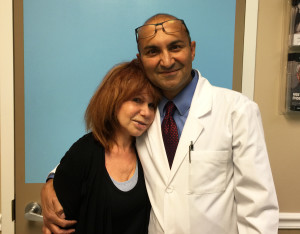 While going through YouTube, she found a video of Dr. Janjua performing the lip reduction surgery.  She decided to undergo a revision procedure.  She visited Janjua Facial Surgery last year to undergo revision of both upper and lower lips.
She was ecstatic with the result, and visited again recently to undergo a revision of the left lower lip for a mild asymmetry.  As she was leaving the office, she asked Dr. Janjua and had this picture taken with him.
Here's the picture of Rosemarie and Dr. Janjua, followed by the video she found that led her to Dr. J.
Lip Reduction Surgery Video
Dr. Tanveer A. Janjua is a New Jersey based facial plastic surgeon who specializes in facelift, blepharoplasty, rhinoplasty and other facial surgery services.
His main office location in Bedminister, NJ — within easy access from Morris and Somerset County, New Jersey and New York City. For more information or to schedule an appointment, contact us toll-free at 877-JANJUA1.
DISCLAIMER: THIS WEBSITE IS NOT INTENDED TO GIVE A MEDICAL OPINION. TO OBTAIN A MEDICAL OPINION, YOU WILL NEED TO BE EVALUATED IN PERSON. FOR ANY QUESTIONS CALL OUR OFFICE AT 908-470-2600