Every time I think of the present world it takes me to the Disney World ride, "IT'S A SMALL WORLD AFTER ALL." This has been proven right by the invention of the Internet. It has brought us together in amazing ways that were not a possibility even 5 years ago. In the day and age of FaceTime, Skype and Google Hangouts, it is very easy to connect with people.
This privilege has now been extended to patient/doctor relationships as well. I have been very fortunate to foster some of those relationships with patients across the world and across the USA.
Last year, I saw a patient from Mexico who had undergone silicone injections in the lips many years ago. This led to a deformity of the lips that was aesthetically unpleasing. She found me on the Internet through one of my YouTube videos and reached out. After the initial Skype consultation, she came to visit me in New Jersey. She underwent the procedure and went back very happy to Mexico. She planned on coming back as she had shown interest for more cosmetic surgery. However, this time her son took the lead.
He had mentioned to his mother his concern about his ears sticking out. His mother discussed the situation with me and she shared several photographs. This led to the assessment and treatment plan of performing an Otoplasty for her son's protruding ears.
When my young patient arrived with his mother from Mexico to New Jersey, he appeared apprehensive. He knew his mother would not take him to any place that she did not feel comfortable, but he never had surgery before. After a brief conversation and an reassuring consultation, all his fears were allayed. He went through the surgery without any problem. Immediately after the surgery, he sat up and was given the mirror to look at his new ears. It made him very happy.
He and his mother left for Mexico a few days later with great joy and satisfaction. I share that joy and satisfaction as I had never envisioned myself touching the lives of so many people so far away. I hope I can continue to put smiles on faces near and far.
– Dr. J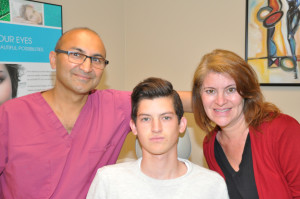 Dr. Tanveer A. Janjua is a New Jersey based facial plastic surgeon who specializes in facelift, blepharoplasty, rhinoplasty and other facial surgery services.
His main office location in Bedminister, NJ — within easy access from Morris and Somerset County, New Jersey and New York City. For more information or to schedule an appointment, contact us toll-free at 877-JANJUA1.
DISCLAIMER: THIS WEBSITE IS NOT INTENDED TO GIVE A MEDICAL OPINION. TO OBTAIN A MEDICAL OPINION, YOU WILL NEED TO BE EVALUATED IN PERSON. FOR ANY QUESTIONS CALL OUR OFFICE AT 908-470-2600