Costmetic Surgery Blog and News
Friday, August 12th, 2016
What brought Christopher from London, England to Bedminster, New Jersey?  Christopher is a 41-year-old African-American male who was searching the internet and came across African-American rhinoplasty blogs on various websites. During his search, he discovered our practice in Bedminster, NJ.  He contacted our office and set up a Skype consultation. He told me that he was tired of getting looks from people because of his wide flaring nostrils. After speaking on Skype, he felt very comfortable and I told to come have his surgery done in New Jersey.  My office staff helped him with his travel plans and lodging arrangements, which they do on a regular basis for out-of-state patients.  Christopher arrived and had the rhinoplasty done without any issues in a pain-free and comfortable atmosphere.  He was amazed by the ease of the procedure.
---
Tuesday, March 1st, 2016
The ethnic rhinoplasty (nose job) in African Americans is very different than Caucasians. Typically in African Americans, the nose is wide with large nostrils, and the tip is bulbous, round and flat.
The dorsum is also flat and there is less definition to the nose. Watch the video below to see how these concerns are addressed. read more here
---
Friday, February 19th, 2016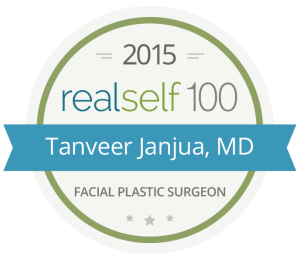 Dr. Tanveer Janjua Wins RealSelf 100 Award
Bedminster – Plastic Surgeon Recognized as Top Social Influencer in Facial Plastics
BEDMINSTER, NJ – FEBRUARY 19, 2016 – Local physician Dr. Tanveer Janjua is one of 100 doctors in the nation to receive the prestigious RealSelf 100 Award, out of nearly 13,000 board certified specialists with a presence on RealSelf—the leading online community helping people make confident choices in elective cosmetic procedures.
In a time when 1 in 4 U.S. adults share their health experiences on social media channels, the medical professionals that made the 2015 RealSelf 100 are recognized both for having an outstanding record of consumer feedback and for providing credible, valuable insights in response to consumer questions about elective cosmetic treatments, plastic surgery, dentistry and more. read more here
---
Monday, February 8th, 2016
A headache is one of the most common ailments that mankind suffers from. There are many different reasons for headaches, and sometimes we cannot find an answer. One of the most unusual kinds of headaches is called contact point headache. It happens when a portion of the nasal septum becomes crooked and starts pushing against the sidewalls of the nose. read more here
---
Thursday, February 4th, 2016
We're please to announced the addition of ThermiVa and Thermi250 to the list of services at Janjua Facial Surgery. Below are several frequently asked questions for both services, and answers to each question.
ThermiVa is a radio frequency device that helps women improve vaginal laxity, orgasmic dysfunction, painful intercourse secondary to dryness (atrophic vaginitis), or mild stress incontinence. It achieves all of the above through heat production with the use of a small wand that is placed inside for a small period of time while the temperature is monitored and maintained at the appropriate level.
Frequently Asked Questions: read more here
---